Zimal'z going to establish its online store, which is convenient for everyone who doesn't wanna go shopping and want online purchasing. Especially when patrolling rates are higher the Zimal'z provides you with online delivery for a very reasonable amount. It offers subtle and modest variety to its customers. Meanwhile, it has a high level of trust by providing excellent responses and services. Indeed, you will get incredibly Linen and Organza styles in the recent assortment of Zimal'z. Moreover, the prices range of these dresses from general to specific, depending upon the style and fabric. Indeed, you will love the enjoyable patterns and artwork on clothing because all attires are designed with the freshest and new styles.
Besides hot beverages, everyone also needs warm and comfortable clothes to wear in winter. Eventually, it comes for a short time, but people spend a lot of time buying essential garments. Meanwhile, clothing brands have pressure to craft moderate quantities for the fall dresses. Although you might have explored the recent assortments of several other clothing brands, here you will discover the chicest hues and styles as well.
Indeed, an ideal outfit will speak for itself. Therefore one must wear a defined outfit for a refined look. Look down at the newest collection of Zimal'z that indeed refresh your look and make it more dazzling. The attractive designs and beautiful colors propel women to buy them. So, Please hurry up and purchase them before they get out of stock. You can see immense variety in the recent ZIMALZ winter collection as well.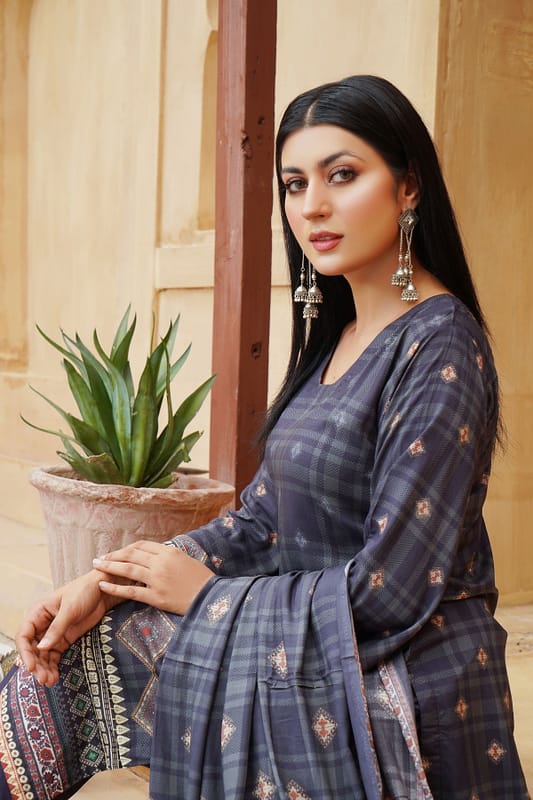 Generally every clothing brand comes with a seasonal variety with trendy styles. Also they follow the segmented groups and construct the types accordingly. Most Women looking for a complete three piece dress for the ultimate grace. Therefore we have a graceful variety for them. Adding an exquisite pop of color to your winter wardrobe. Zimal'z winter dresses will provide an elegant look with the soft protection in this chilly winter season. In fact, in the winter season women's fashion hides behind sweaters and warm jackets due to shivering cold. Women want to maintain their style and fashion despite the winter through dresses. Zimal'z winter collection resolve women problems with warm quality dresses that replace sweaters and jackets. Natural prints, architectural designing, and quality fabrics boost your style and fashion among others. The Zimal'z winter collection keeps you warm day and night with an impressive look.
This winter three-piece collection bring casual to occasional wear and daily wear to evening wear with our Organza shirts also. Let's buy Stitched Organza shirts also and make your festive more enjoyable with our latest collection.
Zimal'z winter collection, optimizes the color of nature and makes your winter season more attractive and beautiful. In this winter collection all printing designing philosophy is taken from natural resources. The main purpose is to make your winter season so cozy and fashionable. Shop this winter season and adopt a unique lifestyle.